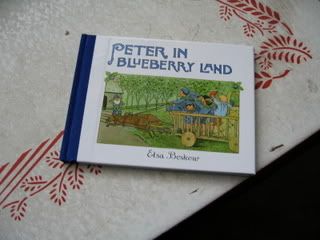 I love children's books. Even if I didn't have children, I would probably be a collector. Don't get me wrong, we love the library and we use it often, but we also own a LOT of children's books. There is a bookcase in each of the kids' rooms that are full and more besides. Some are from my own childhood, many are from my rabid spirit of acquisition when it comes to books. I also own many books of fairytales and books talking about fairytales. What I adore more than anything are books that catch the imagination in such a way that they're almost landmarks of growing up. My favorite book of all time was and is
Anne of Green Gables
; even the language of that beloved tome is woven so inexorably into my growing up that it continues to shape how I see things.
I mean, "kindred spirits," anyone?
I'm so glad that Sophia and Benjamin see as much magic in books as I do. You know how you always say (and believe!) that it doesn't matter what your kids love, you will always encourage their own interests and passions? Well, yes. But I would have been utterly crushed if they didn't adore books.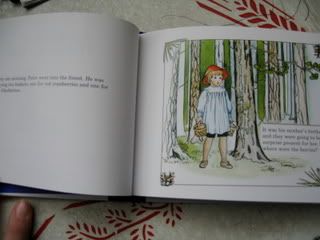 I ordered them each a new book for their spring baskets. They didn't quite arrive in time for that, but they're here now and we're poring over them. The pictures are from Benjamin's gift,
Peter in Blueberry Land
, by the fantastic Swedish author and illustrator Elsa Beskow. We own several already, and they are great favorites of both the kids and myself. Written over a century ago, they are as enchanting as they ever could have been, with the added fascination that comes with seeing aspects of a different way of life. My kids are enthralled with the depictions in some of the books of harvesting, hand making items used in the household, and -of course- the clothing in the illustrations.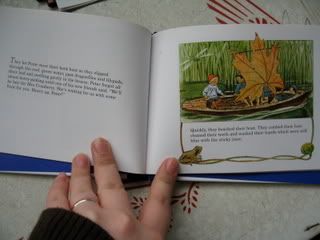 The books usually deal with some element of the mythical or magical. The King of Blueberry Land taps Peter on the foot to shrink him down to his size and they go off to meet the blueberry children and have great adventures. Another book shows the life, through the seasons, of the "Children of the Forest", people smaller than mice who wear red spotted caps to look like mushrooms if danger comes near.
Sophia received the first book in the
Sisters Grimm series
, which I think we will enjoy reading together.
I recently picked up
The Other Boleyn Girl
on a recommendation. I like a good, enticing, semi-trashy read sometimes. I'm only a few chapters in, but so far I'm not that impressed. Hopefully it will pick up and grab me a bit better as I get further into it. I'm kind of on a York/Tudor kick now, actually. I read
The Daughter of Time
last week, which deals with the historical accuracy of Richard the Third being accused of murdering his young nephews, the two princes in the tower. Richard was killed at Bosworth, and Henry 7 became king which of course ushered in the Tudors. (It was a good book.) And I'm watching dvds of the first season of The Tudors, with the very yummy Jonathan Rhys Meyers playing an impossibly hot and clean Henry 8. So that's fun.
Sophia has a project in her school's science fair today. She did it on "what's inside an egg." Can you believe 1st graders are doing science projects?! It seems young to me. But she's excited, and she even has note cards and a planned-out hand flourish. I'll let you know how she did.