They call the area where we're living "the North Country," and when you realize that we're 30 minutes from Canada, it makes a lot of sense.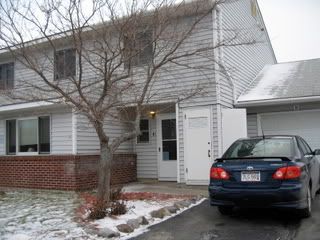 We lucked out and got a great house on post. Now, housing at Ft. Drum is a very tricky thing. The military has moved such large numbers of troops and their families here so quickly that there is no where near enough housing to go around. Our unusual good luck went like this: The housing department backdated our application to when Clint arrived in the US from his Korea tour. That would be
last
February, almost a year ago. Then, the fourteen people ahead of us all had something missing from their application. So we got this house. A friend of Clint's was just told that the waiting list he's on is up to 690+ days. Plus, we're in a section that was until a few months ago field officers' housing, which means commanders lived here. Which means we got a great house.
There are three bedrooms, two full bathrooms and a half one downstairs, a one car garage, fenced yard, laundry/mud room, and we got all new appliances. Why am I gloating in this way? Because I am so damned shocked that we tripped into this good luck. This is not how it usually goes for us! Clint is also happy with the post they gave him when he arrived, which is another huge blessing.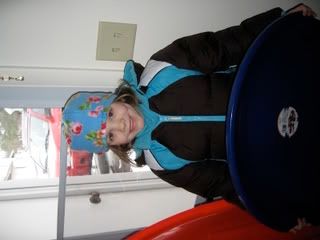 The kids have adjusted really well so far. Its been a bit hard for them; we've moved from Fairmont to Missouri, then back to West Virginia to stay with my parents for over a month, and now to New York. But both kids have made a friend on our street, friends that invite them over. (!!) Sophia loves her new teacher and school, and she's very excited to join Girl Scouts here. Benjamin is over the moon because I broke one of my Big Rules and we got cable. I've always been anti-cable, and we've never had it in any home we've lived in. I love movies too much to have ever gone TV-Free, but man, I was pretty hardcore about the no-cable. Of course, over a month at Nana and Papa's got Benjamin addicted to Noggin, which has all his favorite shows like Franklin and Little Bear and Max & Ruby. And for once, Clint wanted it. And (do you sense how I feel the need to make excuses?) we're indoors so much of the time here that I broke down and it was installed today. Benjamin is right this minute watching his beloved Noggin.
I think those early years of not having it have been years well spent, though. The kids will still happily turn off the tube to read a book. This makes Mama very, very happy.
(Let's not talk about that other Big Rule of No-Game Systems that got broken with the Nintendo DS's. It's like T.S. Eliot said in a quote that is near and dear to my heart: "The only wisdom we can hope to achieve is the wisdom of humility: humility is endless". Well, the longer I am a parent the more humble I become and also the more leery about making Big, Idealistic Rules.)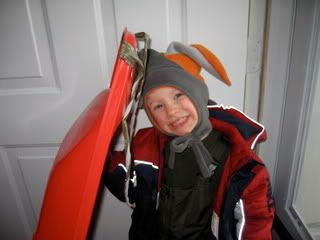 This North Country gets a lot of snow, which the kids are loving. Over the weekend we went and got some cheap sleds and some snowpants for the kids. And needless to say, their snow boots are getting a LOT of wear.
It's taking us awhile to settle in, both in the house and the new base/town. I find this post confusing, and although I normally have a really good sense of direction it took me over a week to make it to the Commissary without getting lost. It hasn't helped that they've changed the street names since I arrived. Who is in charge of that, I'd like to know? And who gets to name them? I'd like to volunteer for that job, if only I could find my way around. But we're getting there. The kids' rooms are done. Clint found a pizza place to love and make his own. I found a little Korean grocery to make me ridiculously happy. Sophia found purple earmuffs and Benjamin found the hat in the picture above, which he calls his "goblin hat" and wears everywhere, including the living room couch. So we're getting there, and I think we'll be just fine in our new home.