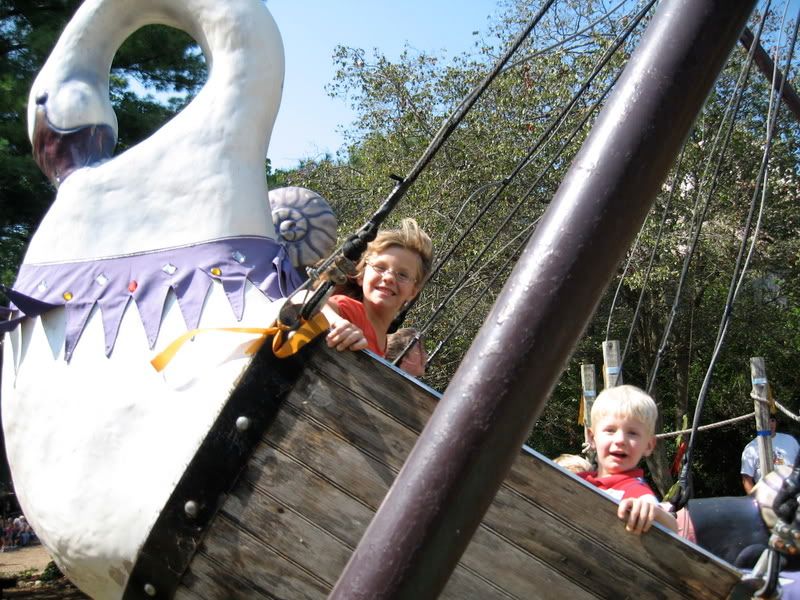 A few weeks ago we traveled to Kansas City to spend a day at the
Renaissance Festival
. Clint and I went to a festival near Charlotte years ago, and we were very pleasantly surprised to find that it didn't measure up to the one near Kansas City.
When we went in Charlotte, we were basically in an open field area with stalls and shops set up in groups, and entertainment in a few central locations. This festival's setting was clearly a permanent undertaking, with buildings and an intricate web of paths winding around the shops and eateries, all sprinkled with stages and spots where shows were going on or characters would accost festival-goers with random Antiquated English conjectures and conversations. (I say "antiquated" because they were not actually using Middle English, even if the beer stalls were labeled "Chaucer's Ale"...I've read Chaucer in Middle English, thank you, and a few thees and thous don't mean you're speaking Middle English!)
Ahem. Sorry.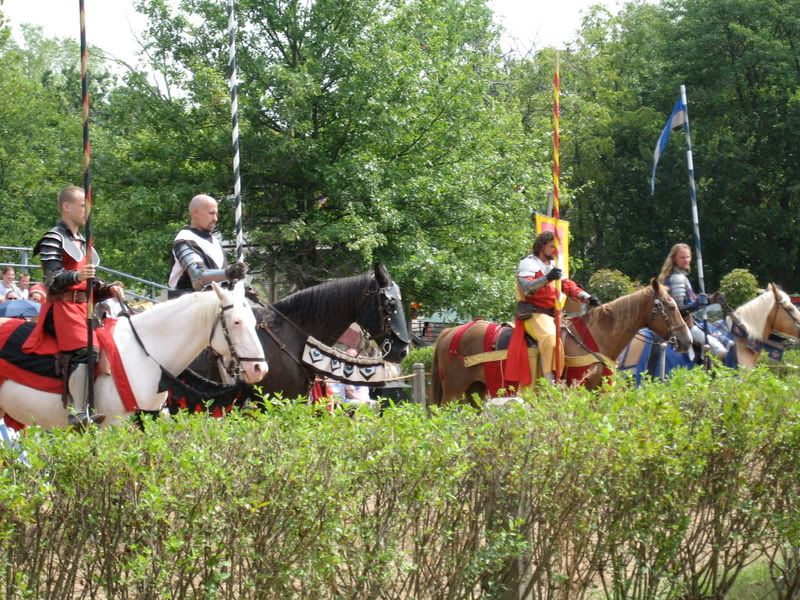 We really enjoyed the performances we saw, which ranged from simple acapella singing to a full-blown joust. Unfortunately, I don't have pictures of the performance Clint and I enjoyed the most, called "The Wench Show," but I do have a jousting picture. We were on the side routing for Sir Geoffrey, the black and silver knight.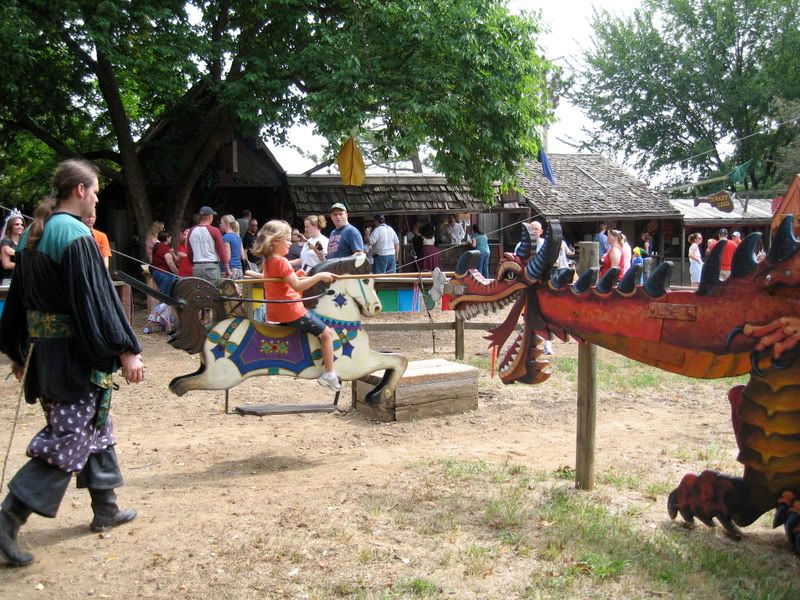 A particular highlight for the kids was the "ride" where they got to try their hand at slaying a dragon. They sat on a wooden horse which was lowered and sent flying along a rope toward the dragon. The object was to get the lance they were given through a ring where the dragon was smoking from the mouth.
Benjamin, receiving a bit of help (shhh, don't tell him that, ever) did indeed "slay the dragon."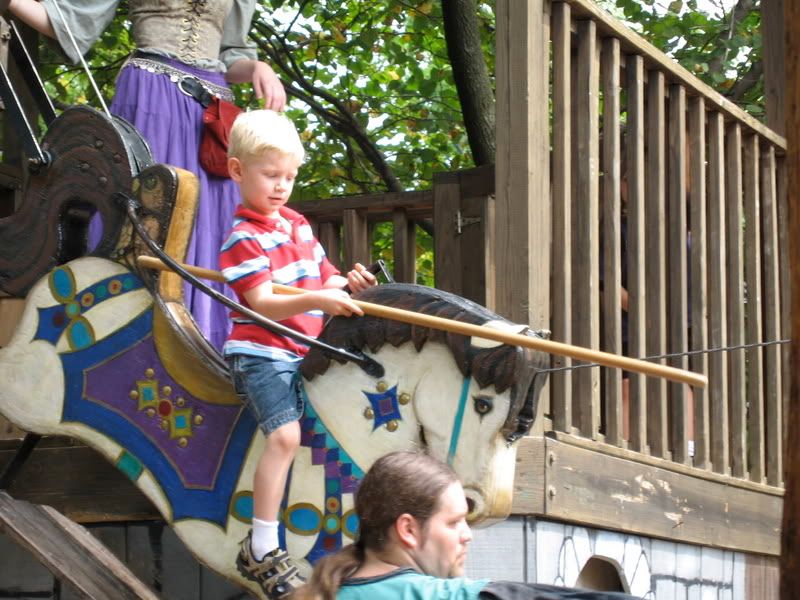 Preparing for battle.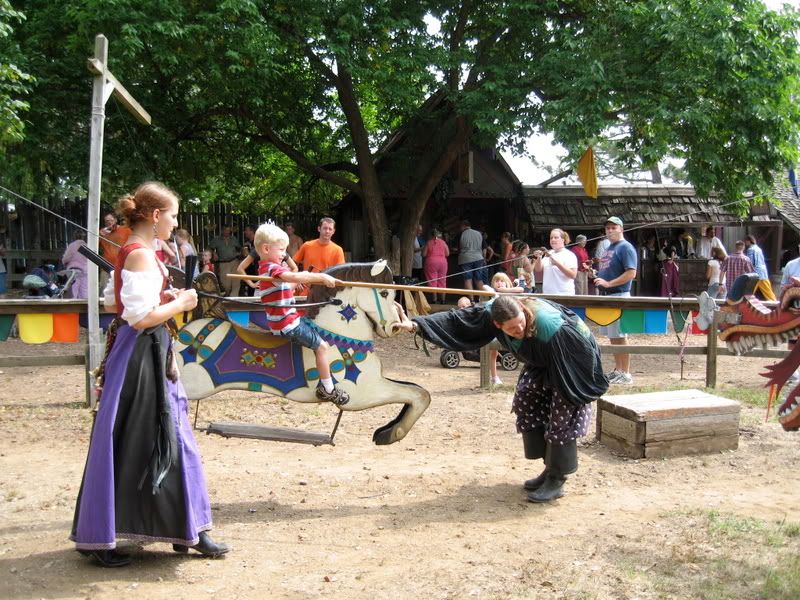 The approach.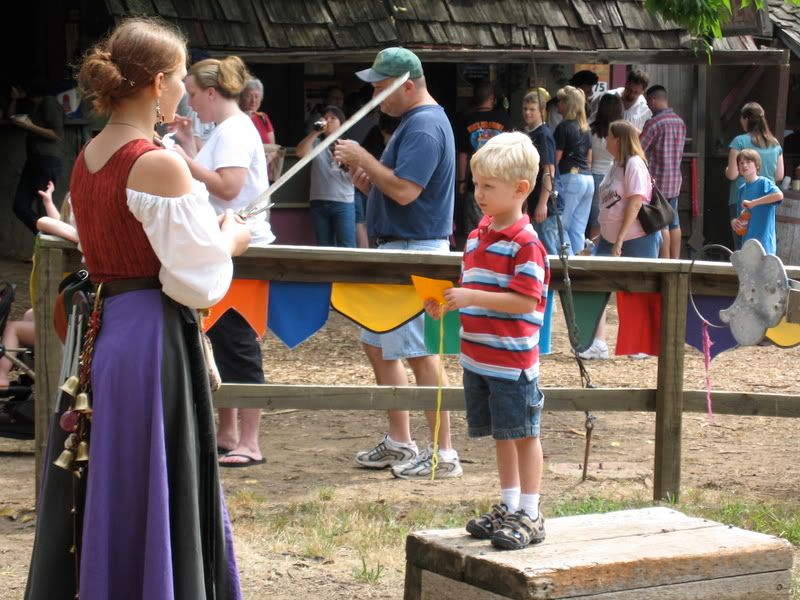 Being knighted.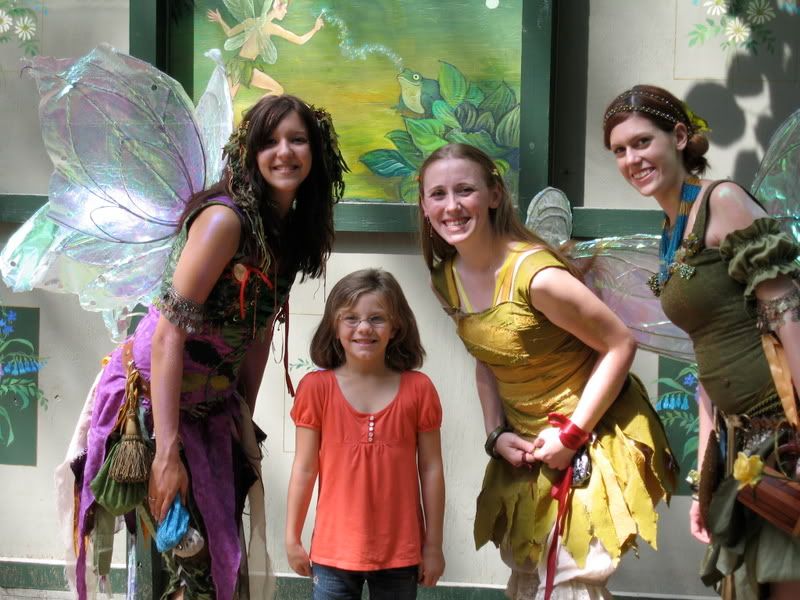 Sophia seemed particularly enamored with the fairies, as well as the very loud and gifted Queen, who paraded through the streets with a royal entourage. They each picked out one souvenir; Benjamin came away with a tshirt that says "Dragons Fear Me" (very appropriate, and he's really proud of his prowess), and Sophia picked out an ocarina. Besides my oh-I-cannot-resist-it! hooded Canterbury U sweatshirt, Clint and I got matching medallion necklaces from
the Quick Silver Mint booth
, where you pick out the engravings you want and they print the medallions out for you, and literally in front of you, by raising a 150 lb hammer nine feet in the air and dropping it onto the mold and medallion beneath. So, we each picked something out from the
impressive catalogue
of designs, and the necklaces were our anniverary gifts to ourselves.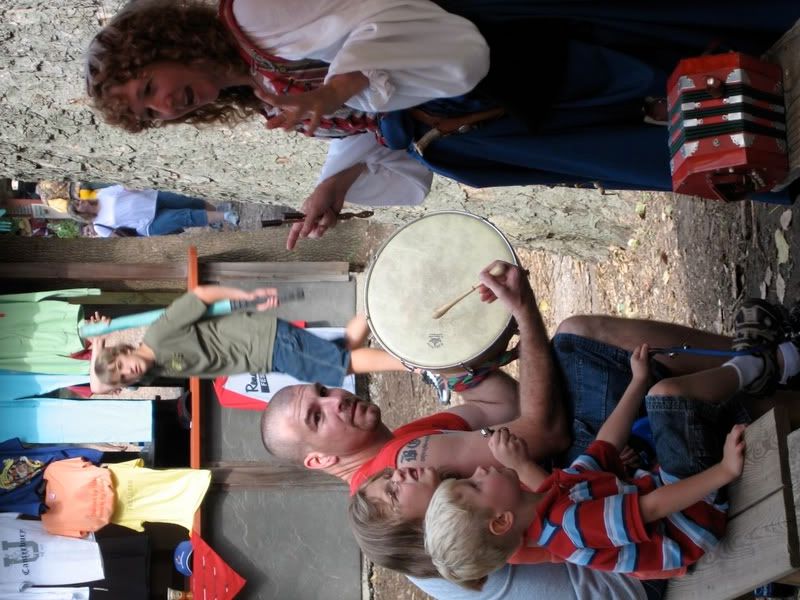 We had a great day, and although the drive was pretty lengthy (about four hours each way), it was well worth it.