There went all my resolution to post more frequently than once a month. I mean to write often, it's just that...I'm boring, ok?
This week Sophia has been on "winter break" from school, so we drove to visit our very dear friends in Rochester for two days.
Sarah
always manages to work some voodoo magic on me so that I am more cheerful when I leave than when I came. Except for the missing her part.
The kids had a blast, it pretty much goes without saying. I feel lucky to have such a close friend whose parenting style is also close to my own, so our respective children can run wild together and it's normal for everyone involved.
This is an older picture, from last year, but it makes me smile.
Other than that, we've been puttering around the house, watching some movies, reading books, knitting, and continuing to make the house look like ours.
I have to say, I hate all the neutral colors. Beige carpet (yuck, I loathe carpet anyway!), white walls, cream cabinets, white trim. The soul yearns for some color, ya know? My eyes feel assaulted when I have to look at white walls for too long. Alas, I am lazy and Clint is unenthusiastic about painting.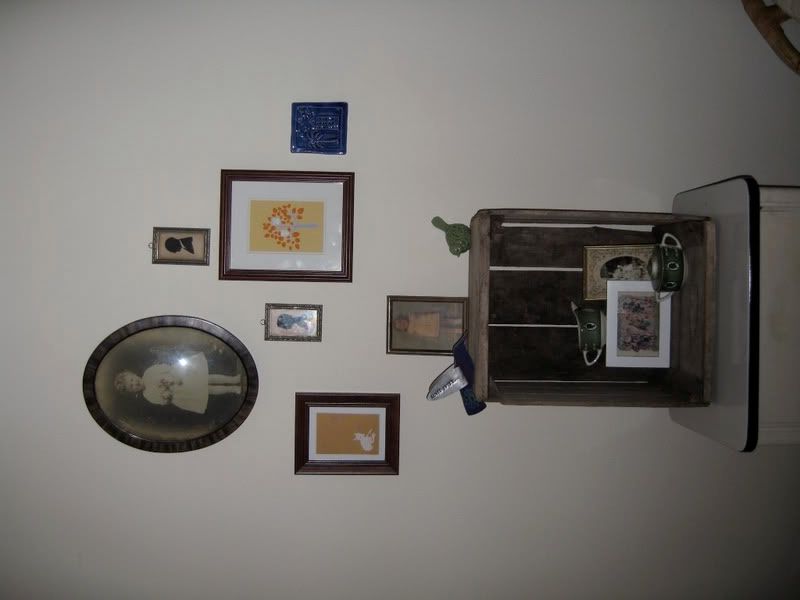 So I've been hanging all our stuff up on the walls and I'm looking out for that perfect fabric to put on the large window in the living room to brighten things up.
I've been combining a lot of the old photos and things I have from my great grandmother with newer, more modern pieces including art prints, a blue tile I got at the market in Charleston, SC, and a great wooden bird with metal wings I got from Art For Your Soul in Fairmont, WV.
I got some great prints from
Yumi Yumi's Etsy shop
, and I am so very pleased with them. I have two already in frames and on the wall. Here are some close-ups: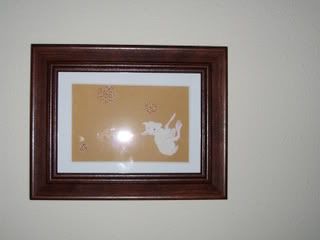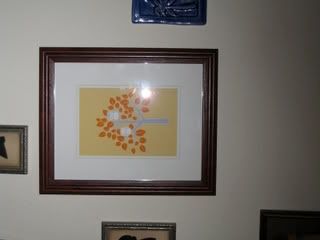 And...um, I made little cakes for Valentine's Day? I really wanted to make
my newest obsession, cake in a jar
but apparently, bizarrely, good ol' mason jars are hard to find up here. So I was excited to see Michael's had little heart-shaped ramekins for $1 a piece.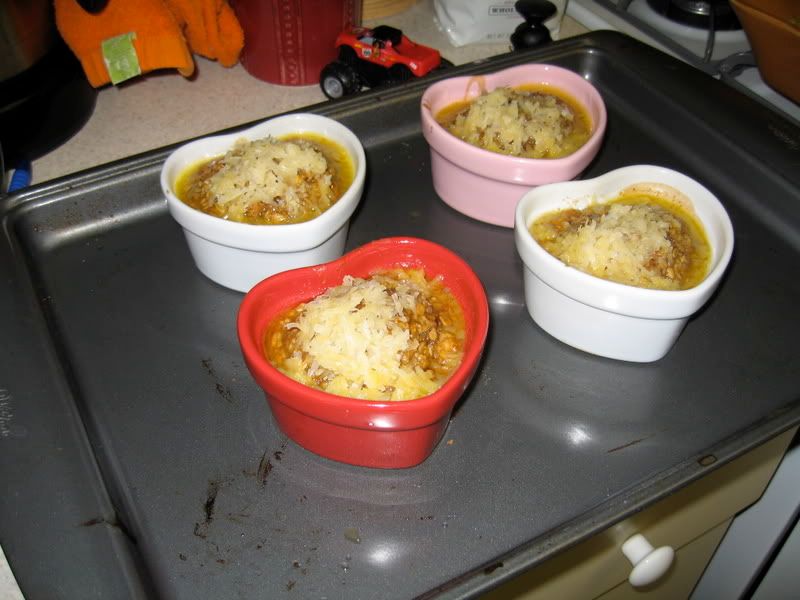 These are oatmeal cake, but I also made some chocolate ones (vegan recipe from Sarah!) and iced them, then sent one along in Sophia's lunch bag.
So my next Big Thing is to set up my sewing/craft table, figure out my new machine, and get to work on a couple of cool patterns I found for baby bibs, burpies, and shoes. There are several people we know having babies, so I hope they turn out well enough to gift with a free conscience. I love getting handmade items...I just hope they will, too!