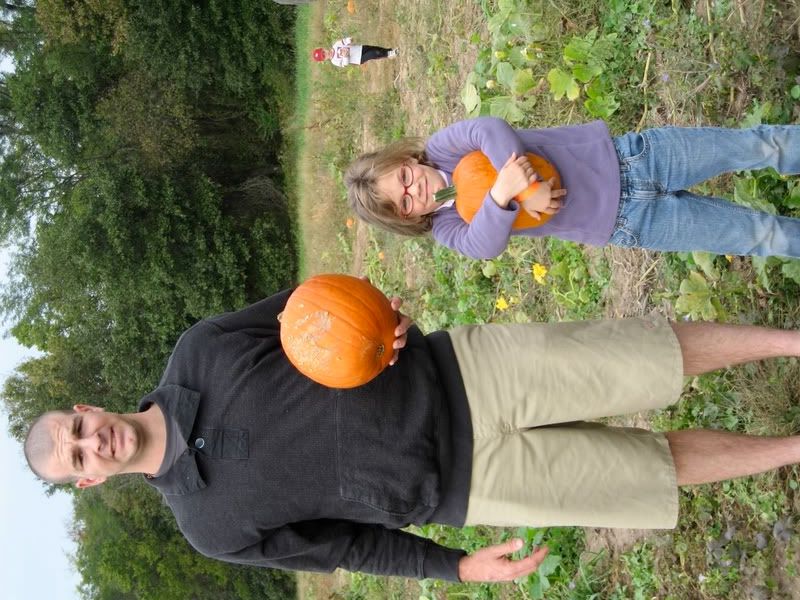 Yes, I know I have neglected this blog terribly. I don't have a good excuse. But look! Look at the picture! Pay no mind to the witless, lazy woman who finally posted it!
Last month (hangs head) we went in search of the perfect pumpkins at
Meyer's Tree and Berry Farm
, where they had a pumpkin patch, corn maze, ubiquitous big bouncy thing for kids, animals to pet, and pumpkin butter.
Ok, maybe the pumpkin butter was for me.
As a side note, when we parked and were getting out of the car, I asked Clint what had happened to the $20 bill he'd had the day before. He had $9 left, and when further queried on what he'd done with the other $11, he admitted he had spent it in the snack machine at work. Half impressed, half horrified, I exclaimed, "How do you spend $11 in a snack machine?!" And Benjamin, my four-year-old sweetheart, said, "Yeah, Dad, that's bullshit."
Oh eat your heart out, Martha Stewart! I win the parenting award!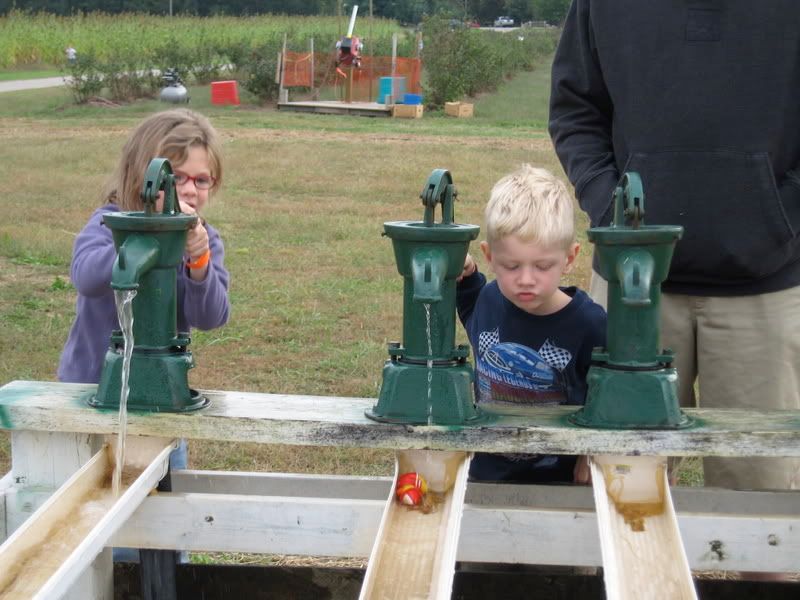 In any case, my sailor-mouthed children enjoyed petting goats, climbing a huge bale of hay, sitting in a feed trough filled with grain, and operating these old water pumps.
Of course, it wasn't all fun and games, because we did come to hunt down and capture the elusive Perfect Pumpkin (tm).
So a short hay ride later, we approached the hunting grounds, which were refered to as "the pumpkin patch" by everyone else. Naive fools.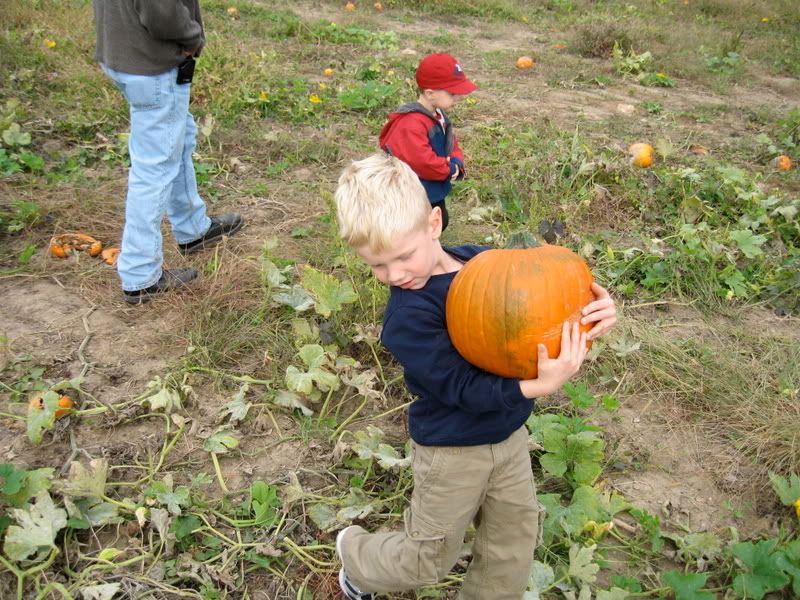 Here you can see Benjamin running away after he has skillfully snatched what might be his Perfect Pumpkin from the small boy who had his eye on it.
I think all that time spent besotted with Dora and learning the art of being sneaky from Swiper the Fox has paid off.
Sophia was also satisfyingly successful, as you can see by her big, cheesy grin.
Oh, the joy of beating all the smaller, slower kids to grab the best gourds from the thinning "pumpkin patch"!!!
So, flushed with the success of our pumpkin hunt, we felt sufficiently awesome enough to attempt the Corn Maze.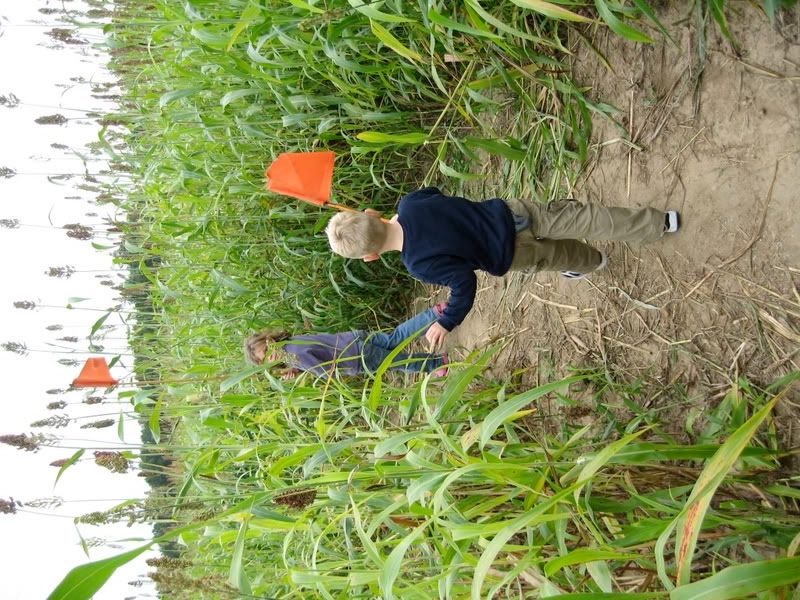 It was tough. The kids had to wrestle several times for dominance in leading the mission, or in other words, who got to walk in front with the tall orange flag, and once or twice I thought I saw them sizing me up for a food possibility if we should find ourselves stranded in the winding labyrinth for days on end, but we made it.
Uneaten.
Triumphant.
So when we returned home, the only thing left to do was carve the prize(s). The kids settled on "scary Halloween faces, please" while I went a little crazy and tried my hand at a cat. Clint scooped, if you were wondering.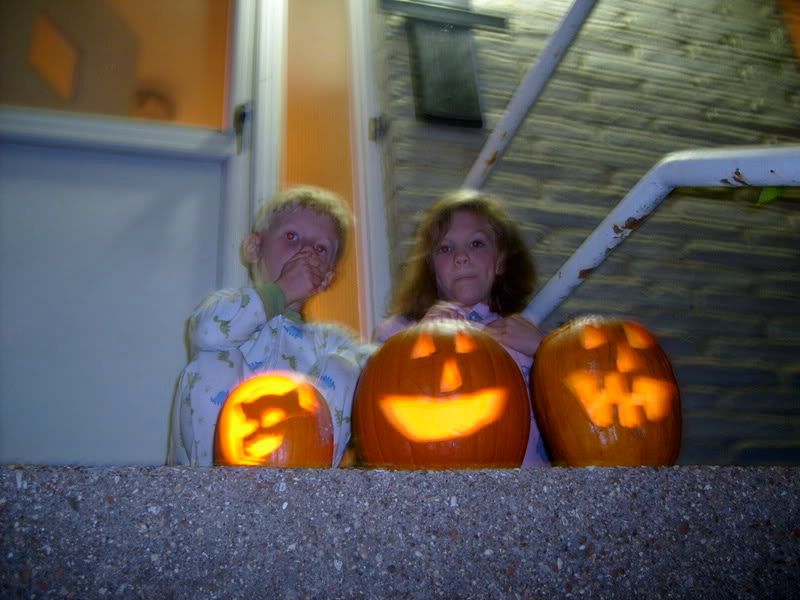 Mission complete.